Martha's Vineyard High-Speed Ferry
The fastest most convenient way to travel to Martha's Vineyard
Martha's Vineyard ferry service operates between Quonset Point in North Kingstown, Rhode Island and Oak Bluffs, Martha's Vineyard May through October. The ferry is only 30 minutes from the border of Connecticut (Exit 8A in Rhode Island) so you can be on your way to Martha's Vineyard quickly and avoid the hassle of driving through the traffic in Providence as well as the heavy Cape Cod traffic along 195 all the way out to Woods Hole. You will save between 2 and 3 hours in drive time each way and spend more time on vacation and less time staring at brake lights!
Once on Martha's Vineyard you'll be greeted by white sandy beaches, great shopping, restaurants, and hotels just steps away. You can rent a bike, car, or take a sightseeing tour of the Island. Martha's Vineyard High Speed Ferry is minutes off of I-95, is the only ferry that offers dockside parking and has the quickest connections to the Providence Airport and Amtrak.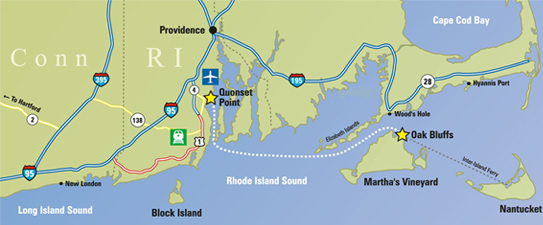 The Millennium is a 400 passenger catamaran that has a cruising speed of more than 33 knots or (40 mph), making it the largest and fastest ferry serving Martha's Vineyard. The vessel offers first-class amenities, three viewing levels, outside sun-deck seating, climate controlled interiors with plush-cushioned airline style seating and a full bar with light fare.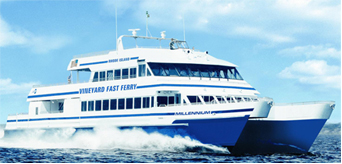 Martha's Vineyard ferry service from Rhode Island is operated by Vineyard Fast Ferry. Passenger reservations are strongly recommended and can be made by calling (401) 295-4040 or online on their website at: www.vineyardfastferry.com